Ally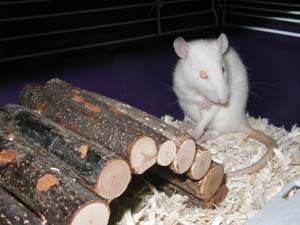 I dropped into Pass Pets, which is in my opinon the equivalent of a rodent puppy mill, and that's when I saw Ally. She was stuck in a tiny tank with her brothers, sisters and mom. I don't like supporting Pass Pets, but after a bit of a struggle with the idiot of a clerk, I rescued her from that hellhole. She spent the day at work with me as I bought her over lunchtime, and then I took her home and settled her into her new cage. She is a skittish little girl but very, very sweet. I've been working on taming her and now we'll just have to see if she is pregnant. I named her Ally only because it fit. I hope to pair her with Archimedes at some point, if she's not pregnant or sometime after the babies are weaned and found homes for.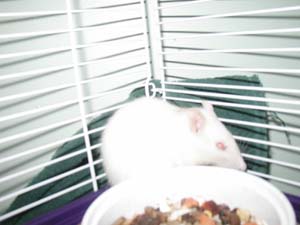 Shy girl hides behind her food bowl.



My first meeting with Ally girl after she comes home.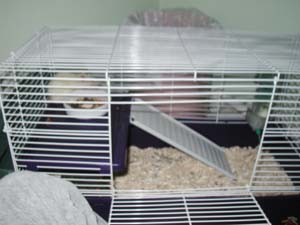 Ally girl's cage. Small, but she stays in one corner most of the time anyway :(